We are often asked if we can repair alloy wheels, and we can! But often the customer is not sure what to ask for.
Repairs can range from curbing damage, cracks, buckles, corrosion, rim leaks with finishes including gloss, satin, matt and polished. It can get confusing, I know. The good news is we can do all of these and more, and we will happily explain the differences to you.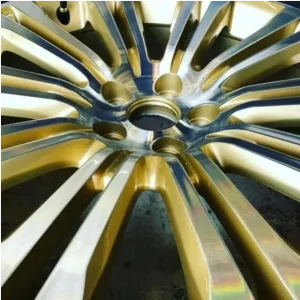 Most common repairs are the unsightly curb damage. These are for the most part easy repairs and can be turned around in a day. We would take the wheel off the car, break the bead of the tire and repair and paint the damage. The whole face of the wheel would be painted to ensure an even colour and stable repair.
Polished (or Diamond Cut) wheels however, need to under go a different process, whereby we remove the tire, strip all the paint off and repair the damage. The wheel is then powder coated and the surface re cut (polished) before the tire is placed back on and re-balanced.
Some customers want a different finish of colour change, and this is also possible. Satin finishes are becoming popular but we have had all sorts of requests like colour coding to trims and even bespoke colours. The options are endless.
If the wheel has suffered from a meeting with a pothole, and a crack or buckle is the result, we can also look at these for you – most wheels can be repaired but we stick to our mantra – if we wouldn't have it on our cars, its not going on yours. If a wheel is unsafe, we will let you know and advise a replacement. This is up to you, but we will only repair wheels we are confident will be safe for use.
Finally, inner edge corrosion – a common issue cause tire to slowly deflate and garaged to slowly loose their cool as the tire and / or valve is often to blame. But no panic, once the tire has been removed the inner edges are skimmed clean and re primed and hey presto, good as new!
So whatever your wheel problem, rest assured we can help, and don't worry if you are unsure what to ask, we will guide you through and explain all your options.
And remember, your car, your choice. We will never force a sale on you.